Lyman Alpha Galaxies

Young galaxies in the early universe can often be identified by prominent emission of Lyman alpha photons. The Lyman alpha line is the 2-1 transition
of neutral hydrogen. Galaxies with vigorous ongoing star formation may be expected to show strong Lyman alpha emission lines, because they contain young, massive, hot stars along with neutral hydrogen gas. The hot stars emit copious amounts of ultraviolet radiation, which ionizes the neutral hydrogen, breaking it into a free electron and free proton. These particles later recombine to form neutral hydrogen again. However this hydrogen is in an excited state when formed, and as it relaxes back to the ground state, it emits a series of line photons. 2/3 of the time, this series ends with emission of a Lyman alpha photon. Lyman
alpha emission was first suggested as a signpost of galaxy formation in by Partridge and Peebles in 1967.


The Large Area Lyman Alpha survey (LALA)
The Large Area Lyman Alpha survey is a project to identify and study large samples of young galaxies in the early universe.
It began in 1998, with a proposal by Sangeeta Malhotra and James Rhoads for narrowband imaging on the Kitt Peak 4 meter Mayall telescope of the National Optical Astronomy Observatory. Several other collaborators have worked with us on various facets of the survey, including Junxian Wang, Steven Finkelstein, Steve Dawson, Arjun Dey, Daniel Stern, Buell Jannuzi, Hyron Spinrad, Katarina Kovac, Emily Landes, Colin Norman, Tim Heckman, and Rachel Somerville.
The LALA survey has two primary fields, in Bootes and in Cetus. Both lie within broad band survey regions covered by the NOAO Deep Wide Field Survey.

The LALA survey has amassed samples of several hundred Lyman alpha emitting galaxies at redshift z=4.5, tens of galaxies at z=5.7, and one galaxy at z=6.5.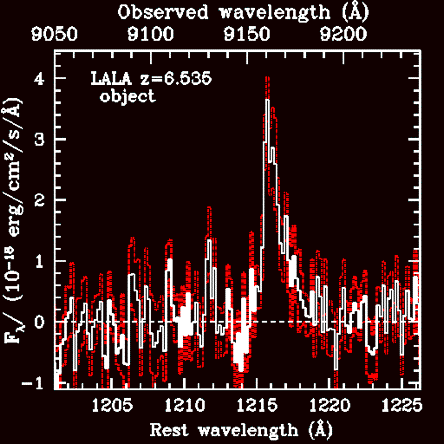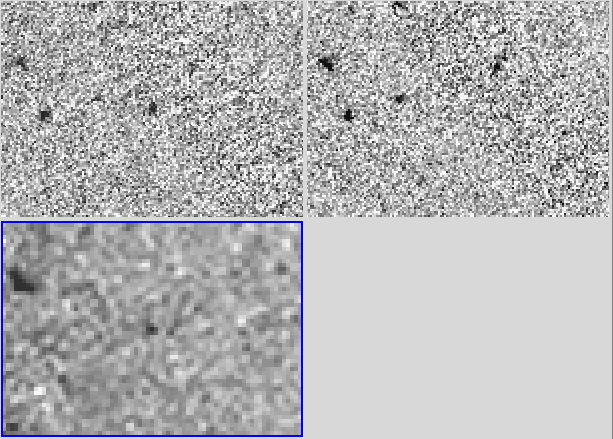 Panel 1 (left): Images of our redshift 6.535 galaxy in the i, z, and NB918 filter, all from the Kitt Peak 4m Mayall telecope. Panel 2: Gemini spectrum of the same object, showing a prominent, asymmetric Lyman alpha line on the right. Panel 3: Hubble Space Telescope images: z band (top left), i band (top right), and H band (bottom left).



Lyman alpha publications:
The following chronological list covers most (but not all) of the Lyman alpha related papers that Sangeeta Malhotra and James Rhoads have worked on. A good fraction of these are based on the Large Area Lyman Alpha survey data, but again, not all.